Murrnong Farm. Hmm. Where to begin? Let's tell it like a saga!
Once upon a time, way Down Under, there was a young man looking for a piece of land for himself and his lady. Not just a house with a garden, but a place where you could be and that you could live from. He wanted to create something, to get his hands dirty and just do it, do all those things that people were talking about if you listened in on the alternative scene of the day. He wanted to build a house, to grow food, to keep animals, to plant trees and keep bees and all other things that are part of a self-sufficient-and-beyond kind of farming ecosystem. Why only think about it, when you can act? And so the young man went out on a search for a Good Spot.
In Violet Town, a small place of some 650 inhabitants, he came across an old paddock. The rectangular 8 hectares had some good soil for tree growing and sat just at the edge of the village. It was close enough to a community but still provided space and privacy to do your own thing. Hm. Yes. This was it, this was the place. He just enough money to buy the piece of land, and to build a water storage pond. Bingo!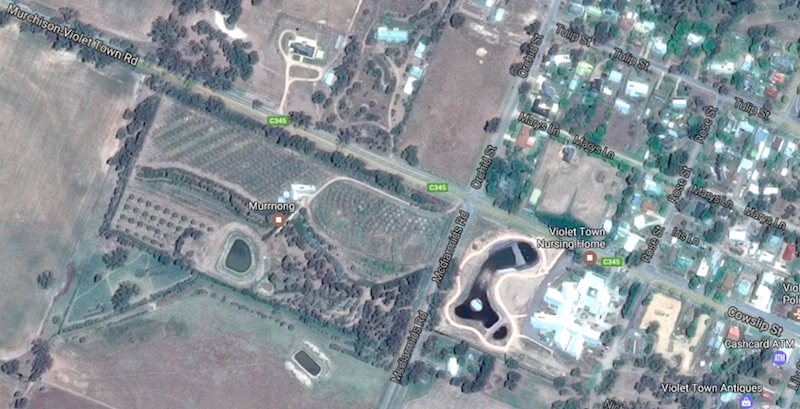 So began the story of Murrnong Farm, by now a small and constantly evolving piece of land on this Earth.
The young man set about implementing all his ideas and skills, and step by step the transformation took place. What was once a plain cropping or pasture paddock (and maybe cultivated for the murrnong yam daisy before that?) turned into an interconnected system featuring humans, chooks, goats, cat, bees, birds, fruit trees, olive trees, trees for timber, nut trees, shrubs, perennials, kitchen gardens, buildings, water tanks, sheds, machines, ladders, tools, storage, irrigation and fertigation, and much, much more. All these different elements played their own parts at the farm, working together in the symphony of life, co-creating diversity and abundance.
At first the place had looked to some like a mad person's project, with a bunch of built structures and a few young trees, but as the years passed the maturing system claimed its rightful status as a Proper but Different Farm. Things were really taking off, growing and multiplying and diversifying. As well as feeding the farm household, surplus food was now being rolled out from the former paddock, getting sold at markets on Saturdays. And hey, providing food is what farming is ultimately about, eh?
While the farm was developing, the young man and his lady had two children together but later went separate ways. The children of the farm grew into clever young adults. The young farming man grew into a wise man. All was good at Murrnong, almost. For the wise man, something was still missing in the human puzzle. A loving connection to a partner, another person with whom to share life and all in it. He found it, lost it, found it, lost it… Meanwhile people came to stay at the farm, to learn from hands-on work how a permaculture system can be shaped and maintained. Some were older, most were young. Once there was this one woman, she had something special… then, like other helpers, she went away to continue her life elsewhere. Nothing had happened, but an imprint was left with the wise man.
A few years later he saw news of the woman on the Book of Faces on the internet. "You look nice in this picture!" he wrote, and that was the start of a long, long conversation. It ended with the woman marrying the wise man and moving Down Under to his Proper but Different Farm. Love. Yes. Yes! Now they were two, one wise man and one wise woman. Life on the farm kept rolling with the seasons, crops came and went, helpers came and went.
The wise woman had a connection to another young woman, who was out travelling the world with her partner. They were researching stuff, like permaculture and agroecology. The couple asked if they could come help out at the farm. Was there a need for more hands, for more skills, for more energy? Always, the answer came, and so they drove their little van to the farm.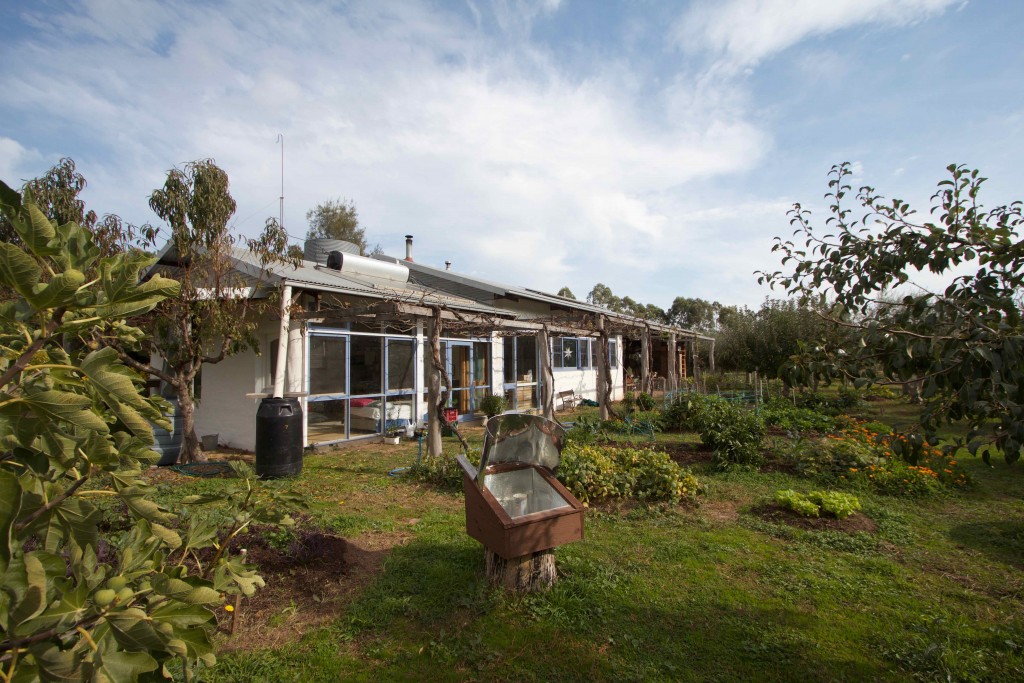 Two weeks flew by while moving goats, pruning trees, harvesting olives, chopping wood, mending broken things, making jam, cooking food etc. The couple jumped in with the rest of the current team, working away and thoroughly enjoying whatever they were doing (except when the young woman lured her partner into milking a goat, which he really wasn't that keen on…). It felt good, deep down on the inside, to be a temporary part of the Murrnong Farm. It felt good to live the shimmering dream of a farming lifestyle and feel content, happy. Then again, it was time to move on.
The wise man and the wise woman were sad to see the young couple continuing onwards, but gave them good food and warm hugs and put them on a train. At Murrnong Farm, people come and people go, so it is.
Maybe one day, the right people will show up, the ones who will want to permanently move into the cob house where the young couple had been sleeping for some nights. Maybe one day the wise ones will have a second nucleus, a second home, forming at the farm, providing skills and stability, furthering the resilience.
I hope so.
The End.