'Of belay', I shout down to Tim, who's on a ledge sixty meters below me. I've built an anchor in a seeping crack, and as the sun is approaching its apex the heat is creating a humid microclimate smelling of childhood aquariums. I look at my dirty taped up hands and belay Tim up the pitch, thinking of nothing much but at the same time processing ideas, while feeling his movement through the ropes.
This simplicity of being a mountain person is what sustains my thinking and analyzing of a larger perspective these days. At work, I'm embodying the outcome of these thoughts, but the perspective is so close and so day-to-day oriented that I find it hard to really zoom out while being at the farm. I can take in and store information and experiences, but I can't synthesize them. Hence my need for time off in the mountains, for climbing.
Tim reaches the anchor and we swiftly shift gear and sip some water before he takes off on the next pitch. I feed out rope and glance at his movements, enjoy the sight of him solving the puzzle to smoothly flow up the rock face.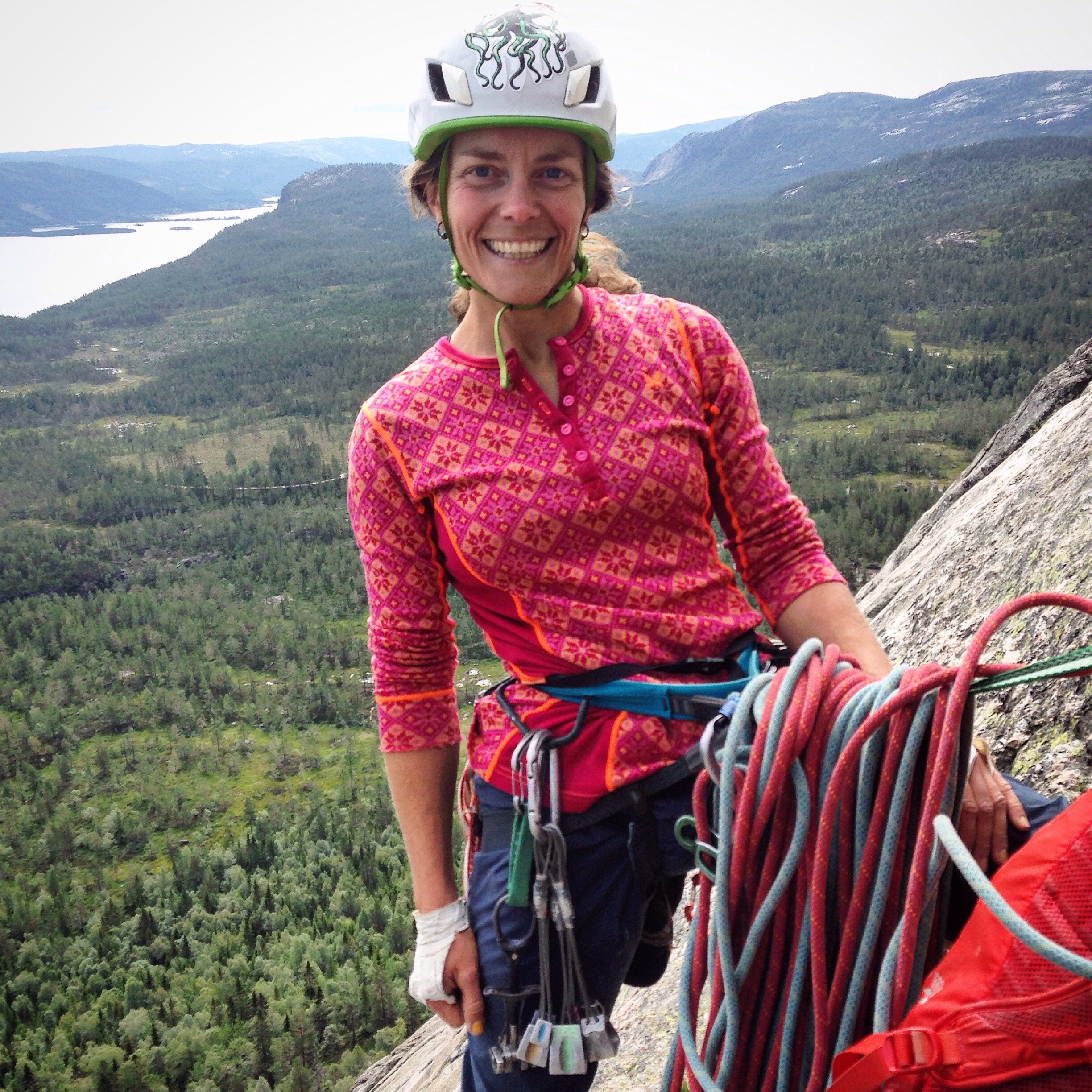 Professionally, right now and for the past few years, I've been a farmer. I love to grow food as a way of activism, a way to fight climate change by storing carbon in the soil, a way to feed my fellow human beings and other creatures and critters whilst providing a solution to the globally engulfing mess that we're all in. I've spent my whole life learning and looking for answers to the question of how I can be a part of creating a positive change in this world. Some call me naive or pretentious, some get scared by my strong will to reach this seemingly far-flung goal, yet many more seem to get inspired by my meandering but relentless effort to do something. Part of what I do is to write about this human experience of mine, of the way my thinking is changing with every year that passes while I continuously learn more about different aspects of life, my own and the biosphere's. Nothing is ever going to be certain, I can't know that I'm doing the right thing, but I trust science and I'm trying my best.
'Watch me now, I'm on blue' I hear from above. 'It's a super wet slab traverse here, if I fall I'm on the blue rope'. I shift my stance, ready myself. But Tim just smears his way over the wet section and reaches the next one bolt anchor. I hear the sound of clinging cams and nuts, some muttering, a satisfying carabiner click and then 'Safe! You can take me of belay Klara'. I unclip the ropes, stash my ATC on my rear loop, tie up my shoelaces again and prepare to clean out the anchor and follow up the granite wall.
What does farming and climbing have in common? For starters, farming in the Market Gardening style using low tech, bio-intensive, efficiently standardized practices requires a strong body. There's a lot of shoveling, digging and dragging heavy things around going on on a weekly basis. The beds need new layers of compost before replanting, the harvesting can easily add up to hundreds of pounds of produce being moved around, heavy sandbags holding down remay might come on and of multiple times during a week and transplanting into dry clay soil often require hours of murderous stabbing to get the little plants safely positioned into their new spot. If I hadn't been a climbing, freediving outdoors loving yoga practitioner, I would have been screwed. I simply can't be a farmer without being an athlete. I've never managed to figure out how others do it, stay strong and fit and keep away from injuring themselves whilst only farming and not doing any kind of movement based activity on the side. The old cliché of "Work hard, play hard" describes my life situation quite well. I need a balance.
As I heel hook my way up a slabby arête I'm focusing only on what my body is doing, where my limbs are, how I'm shifting my body weight to access stability. I heave myself into a crack, dig in deep to be able to retrieve the cam that Tim has placed in there with his long arms, and continue up a burly and wet section of gently weathered flaky granite. Beautiful! I follow on the wet traverse, smearing in puddles of water, giggling. How I love these little adventures within the adventure, the unexpected conditions creating an edge to what we're up to. It was raining further northwest in Norway so we opted out of Romsdal and went to Nissedal. It's the place where most people in this part of the world goes to have their first multipitch trad experience, but I've never been before. After laughing exhaustedly at the howling winds and spindrift of the Fitz Roy massif, trying to climb easier routes up Aguja Guillaumet and Aguja Mermoz, this little wet slab section seems like a very straight forward problem. It's like anything in life, once you push forward and gain confidence in unknown terrain you can later relax in a less complicated situation, knowing that you've got this.
That's how I feel at work. I'm busting my ass running a small scale Market Garden for the City of Gothenburg, a project funded by the EU for three years. I'm delivering veggies to nearby preschools and schools, testing the thesis that a municipality can achieve better results both economically, socially and ecologically by running their own farming operation rather than buying in food from external sources. Can we opt to pay a salary instead of paying for vegetables, and if we do, what else can be achieved at the same time? Can we run this as a Model Farm where we can train young farmers, preparing them for the highs and lows of working in agriculture, creating a new wave of environmentally sound farmers?
I've been circling this trade of growing food and tending plants for years now, linking it to foraging both on land and in water, combining it with the issues of food safety and food sovereignty, with urban farming and climate positive livelihoods. I'm a jack of all trades kind of person and in my line of work as a farmer I'm using all my skills from working assembly lines, making cheese, studying engineering, gardening and geology to traveling the world freediving, climbing and WWOOFing, and I can tell you it's all coming in handy. What I'm doing at work is an expression of connecting ideas from solutions oriented frameworks out there, applying them to my site specific conditions here on the Swedish West coast. Permaculture, regenerative agriculture, agroforestry, these ideas are all pointing in the same direction. Care for your land, care for your people, share your bounty. Live simply, so that others may simply live.
I put my right foot up on the lip, adjust my grip and crimp down while slowly, breathlessly inching my way towards the roof crack above me. The piton hammered in there is so close, but I can't reach it yet. I move into a frog position and stand up, belly against the warm rock, reminding myself that this is not a vertical face. Just relax and clip the piton, you've got this. I continue right along the roof crack, smearing my feat or delicately toeing into fissures and indentations. The cams are bomber, the sun is shining, the landscape below is like a fairytale. My soul is wide open, in awe of the natural world. This is our wedding day, and there's nothing else I'd rather be doing right now.
We move up the last pitch of Mot Sola and finish on a grassy ledge that takes us to the top of Haegefjell. We drop our harnesses, take off a layer of clothes and bask in the sun. We slice an apple and put the crisp bits on our peanut butter sandwiches, wolf them down. This was a mere six hour outing, some 350 vertical meters, and a perfect ending to my summer vacation. Life down there on the lowlands will continue, my strive for doing something positive with my life as a farmer will continue, but up here none of that matters. I'm a climber. Right now, I'm right here.