New Zeeland's South Island. Two months of exploration has come to an end. The verdict? Yes, of course I liked it.
I grew up in a temperate climate in Scandinavia, a part of the world where population density is low and access to nature is high. I have learnt through the years that I dearly value that scene as a backdrop of my life, so whenever I come to a place with similar conditions it's an instant love affair.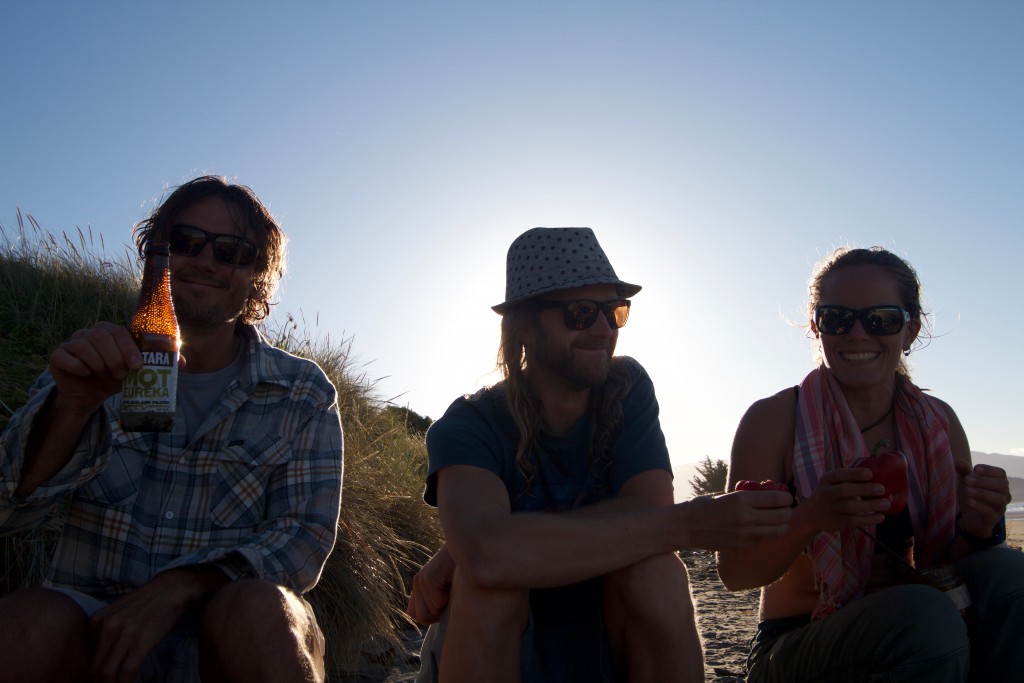 The South Island was in that sense exactly what I hoped it would be, wild and perfect. We started and finished with climbing sport routes on limestone up at Paynes Ford, Takaka, Golden Bay Area. Tim was living there for a full 9-month climbing season back in 2008, so it felt like a home coming. "Hi everyone, I'm back! This is my wifey Klara. Klara, meet everyone." We camped in his old spot, went to the same old supermarket, got a library card, danced away at the Mussel Inn, went swimming either at the swim holes or in the ocean etc. It's very nice to be able to do that with your partner, to share old memories and build new ones at the same site. By now, Takaka is not only Tim's place but also mine.
The climbing camp where we were living is called Hang Dog, and Troy – the manager – is Tim's old friend. He was thrilled to have a solid climbing partner back at his door step, so while I continued with rehabbing my knee, managing basically the ten minute walk out to the crag and maybe two climbs each day for the first few weeks, Tim and Troy were killing it. It was so nice to watch Tim regaining his strength after having had half a year of muscle deterioration due to an inflamed lung and all that came with it. So much of who we are together as a couple relates to being active, which means that the past year has been an odd one for us. I feel grateful for being back in my body, and I'm grateful that Tim is back in his. Being strong, flexible, adaptable and agile both in mind and body is a virtue to me.
The fact that Tim is so much taller than me and thus climbs in a different style has been a bit of a tricky mental issue for me. Since 2011 he has been my partner for at least 80% of the time when climbing outdoors. I've seen him on the rocks for years, performing different moves. When I try to mimic them and use the same beta to climb past a crux, it is more often than not a failure. With the analytical, logical part of my brain I understand perfectly well the physical reality behind why it is so (monkey index etc), but for the emotional part of my brain, frustration is not far away. I want to! I WANT to CLIMB up there, get past that section, figure out the moves, do it clean. But – I'm not the same length as Tim.
When climbing indoors at the bouldering gym back home, there's usually quite a few people of different length and strength around, and so I can watch and learn together with them as well. There will be someone who uses mostly the same beta as me, and I become a better climber from being able to find my own style.
While climbing with Troy at Paynes Ford, I had the chance to spend many hours together with a very strong climber who was a bit taller than me, but who still used most of the same beta. I would find my way through cruxes mimicking Troy, and then watch Tim do it completely different. It felt a bit like learning a new language, realising that your not stuttering anymore, your actually talking in complete sentences, able of putting them together á la minute without first constructing them in your mind. I come out of New Zealand a better climber, and that makes me happy and proud. Its a great feeling, evolving. My current plateau for leading is an Australian 20/French 6B, which brings me right back to where I was before my knee injury. At the end of our two months, I'm now back to climbing some four-six routes every day, depending on the status of the skin on my fingers rather than the status of my knee. If I'm still for too long, e.g. riding a car for a day, my knee still stiffens up, but as long as I stick to my rehab routine – 45 min every second day – it comes easily back in shape.
Phew… 😀
In all, New Zeeland and all the wonderful people we've been spending time with have treated us very, very well. It was a relaxed and happy start of our 16 months journey. Rejuvenated, we're now crossing over to Australia for the next four months. Hasta pronto, little island!