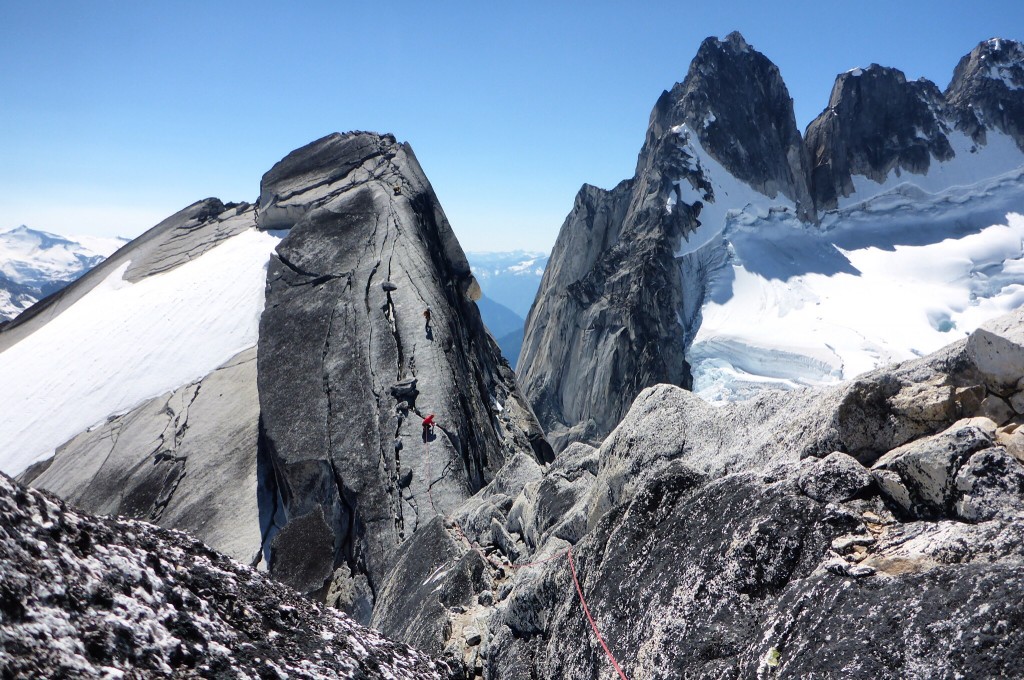 Bugaboos. Bugaboos! Granite spires in all directions. Glaciers melting into streams. Frozen lakes and thawing ones. People dressed in colorful outdoor gear with helmet compatible hoods and crampons dangling in their hands as they come back into camp. Toilet huts built on site from granite blocks, with a view of the Bugaboo spire itself. Small patches of grass and slow growing green cushions flowering with purple, red and white beauties.
It's magic. I didn't know much before we came up here, not about the size of it not the natural splendor. It's so freakin beautiful! I thought, granite – I like climbing granite. Mountains – I like climbing mountains. I love the view, the bird perspective, the far away from everything feeling and the fact that you can only trust yourself and your partner to stay alive. We are climbing safely, but the days are long ones, with approaches, climbs and rappels leading us into 8-15 hour adventures. Active days. Full on days.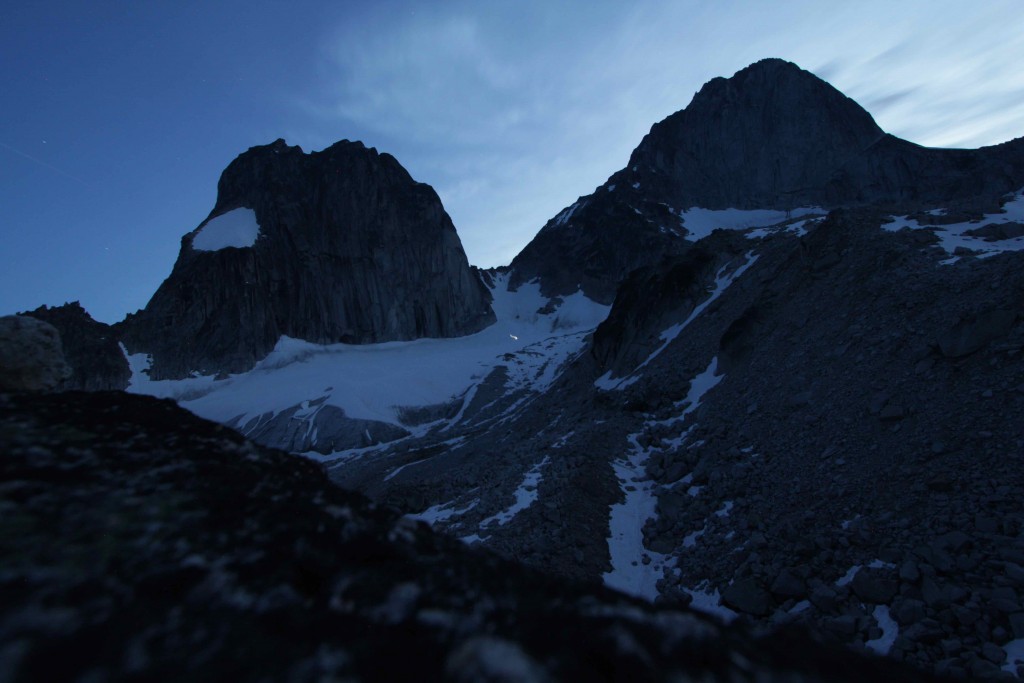 Beep, beep, beep! 5 or 6 AM, not super early but still early… We eat porridge and drink coffee in the morning, pack our gear, water and snacks: Nuts, bars, boiled eggs, carrots, then head into the alpine environment to practice mountaineering. Trudging up the steep snow to the col between Bugaboo and Snowpatch takes us about an hour, then we keep on walking over the glacier to the beginning of our chosen route. Gearing up with harnesses, ropes and trad racks, stashing crampons and ice axes for the return, or packing them to go. The person on the sharp end of the rope begins the ascent of the first pitch and the rock climbing is on. Through cracks, flakes, blocks and slabs we go, up, up and away.
Ah! It's good to be here, amongst silent rock giants and moaning glaciers, with people whom you appreciate and love. The hours pass without us noticing. Already 3PM? Huh. We climb on. Some days we're back at 6PM, some at 9PM. We boil water and eat freeze dried food. Devour it, hungry after many hours of pushing ourselves mentally and physically. Our tents stand on a hard granite surface at the Appelbee Dome camping. When the chit chat and planning for the next day slows down we brush our teeth and crawl into our sleeping bags, hide from the wind inside the thin tent walls. The camping is a silent one, most people wanting to go to sleep early and rest well before the next day's undertaking.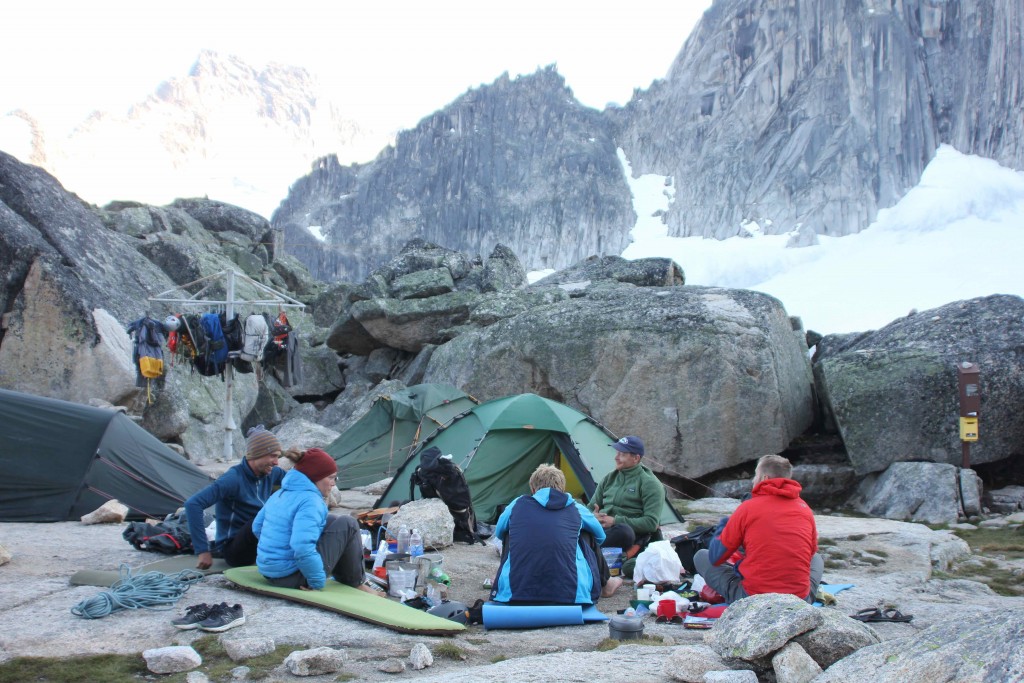 There's a mental simplicity underlining the time spent up here. There are no cafés to go to, no food to shop for, nowhere to drive, no computer screen telling the state of the world. When we are up here, we are separated from the normal everyday life. It makes a difference even for us, Tim and I, who for now are living like nomads. Though it can be straining to be up here, to carry those 35 kilos on our backs when walking in and to push up to summits 3000 meters high most days, the simplicity balances the effort made.
Then comes a resting day. No alarm goes of. When the sun hits the tent it gets to warm in the down sleeping bag and we crawl out. Get water. Boil it. Make coffee. Stretch. Eat. Swim. Talk about stuff, life, adventures, getting older. We're still looking for what to do with our lives. Acknowledge that this is a pretty good way of spending a week. It feels longer, with a string of new strong memories binding each moment together. This place, magic.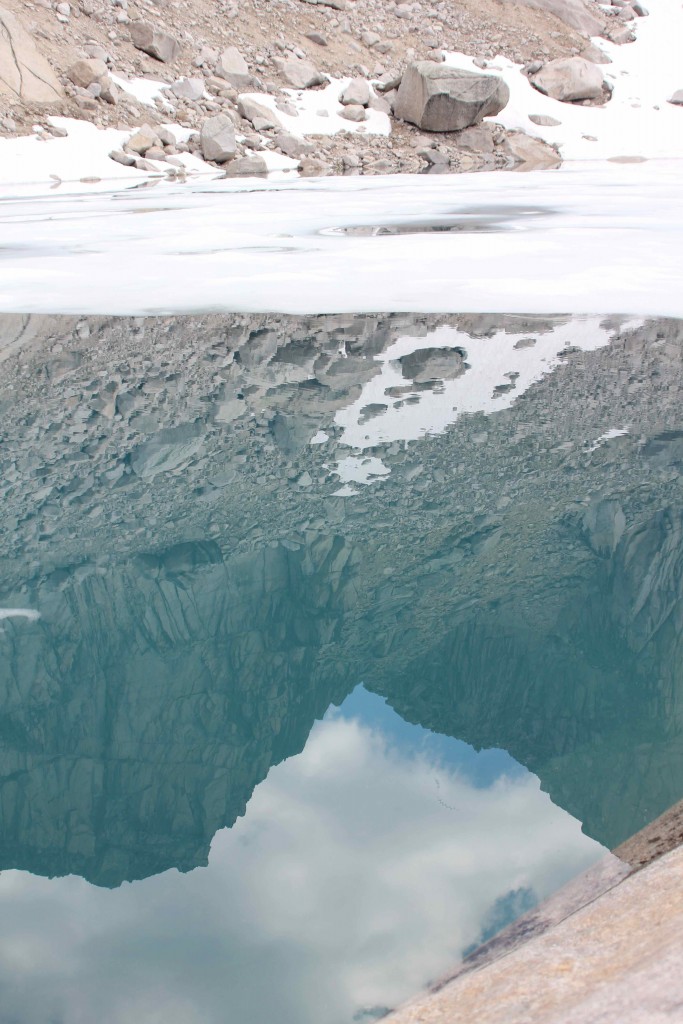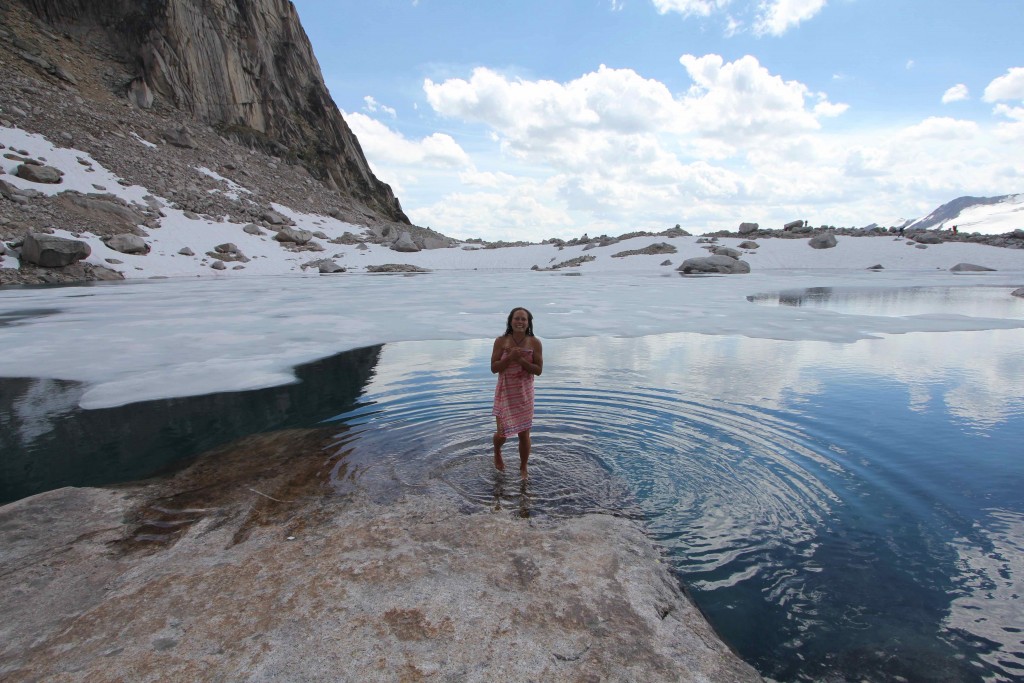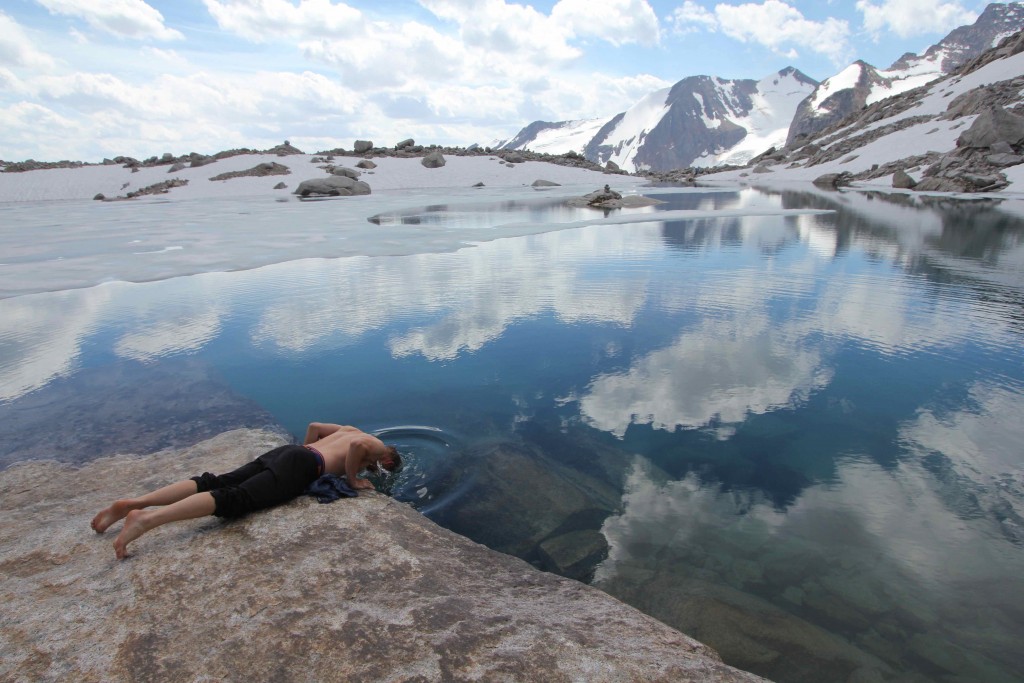 For me, still struggling to fully get back from my knee injury, these days have made me smile. A lot. I could walk uphill for 4,5 km, gaining 950 meters of altitude, with a stupidly heavy backpack on my shoulders – and the knee felt good!
I could hike up the col with crampons and axe, walk the glacier, then simulclimb the Westridge to the Pigeon Spire and reverse the whole thing – and the knee still felt good!
I could hike up to the foot of the Crescent Spires, lead a 5.6 called Lions Way, scramble down a scree-turn-to-snow-slope – and the knee was not even on my mind!
I could climb an 8 pitch 5.9 called Wildflowers and really go for it as a team together with Tim, leading every second pitch. Most memorable was leading the last, strange 5.9 to just below the summit, stemming and pinching and jamming my way up flaky grooves, slowly formed through endless weathering of the hard granite. I lost my way in all the different flared cracks. It turned into a 5.10. Still, I pulled myself together and got through. Proud, thirsty and tired. And guess what, the knee still felt bomber.
If I would ever get injured again, I'd do the same thing. Rehab. Hang in there. Then get back into nature ASAP and let it work it's magic. It's been nearly a year and a half since I did my ACL surgery, another six months and all the nerves that can grow back will have done so. Then I'm gonna be ridiculously strong, because right now I'm STRONG.
Ah.